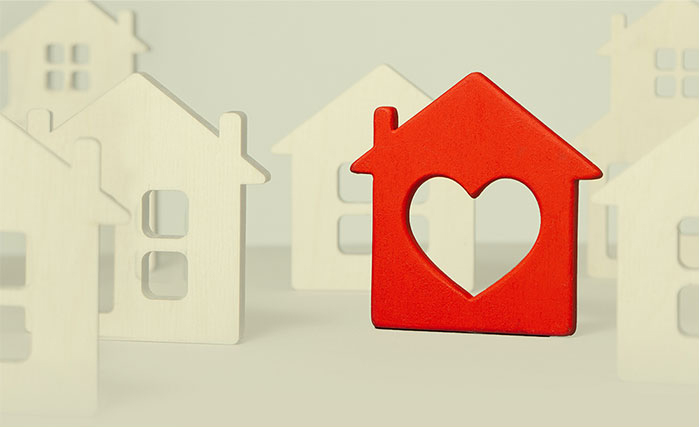 If you build something up too much you just may set yourself up for disappointment. Try to go into any property viewing with an open mind. Your favourite property may disappoint, while the one you didn't want to view could be perfect.
And your perfect home will probably be the most expensive thing you ever buy. That is why it's important to make sure it's the right one. Try to go on multiple viewings. Like a first date, on your first viewing, you will only see the good things or bad things about the property. Go on a second viewing and get to know the property better before making a decision.
The cost of love
Just like at the start of any relationship, it is easy to get into debt, by going on expensive dates, buying new clothes and trying new things. With a property, you may be tempted to spend more than you had planned but be careful not to overstretch yourself. Your perfect property may turn into a nightmare if you don't have any spare cash to do odd jobs, or even go on a date once a while!
Remember the other costs involved too, such as mortgage broker fees, conveyancing fees and survey fees. To get things moving swiftly, you will need these ready for as soon as your offer is accepted. You don't want to find your perfect place only to find yourself short and lose it. Be upfront about your finances from the start of the process.
Love that lasts
Be realistic. This may or may not be your forever home. Aesthetics are always a major factor when it comes to both romance and property. However, look beyond the current state of the property and focus on what you could see the property becoming. A perfect relationship needs work, and the same is true for the perfect property.
Look into planning permission early to see whether it's likely that they'll allow you carry out any work you wish to undertake, such as an extension, dropping the curb for off-road parking or changing the windows and doors. You don't want to have big plans for your forever home, only to find out you can't carry them out.
A joint love affair
Love is a two-way street. Sit down with your partner to agree both of your needs. Your perfect property may not be theirs, but by working together you can agree on the nice-to-haves and the must-haves of a home you can share and enjoy together. Just like some people enjoy reading at home while others feel the need to be outside, there is always a way to compromise for the greater good of your relationship.
For every compromise on one's behalf, the other partner could get something in return. For example, if one of you has green fingers you know they'll want a nice garden and if the other works from home or enjoys their peace, try to get somewhere with a snug or study. Just like a working relationship, compromise is always the way forward.