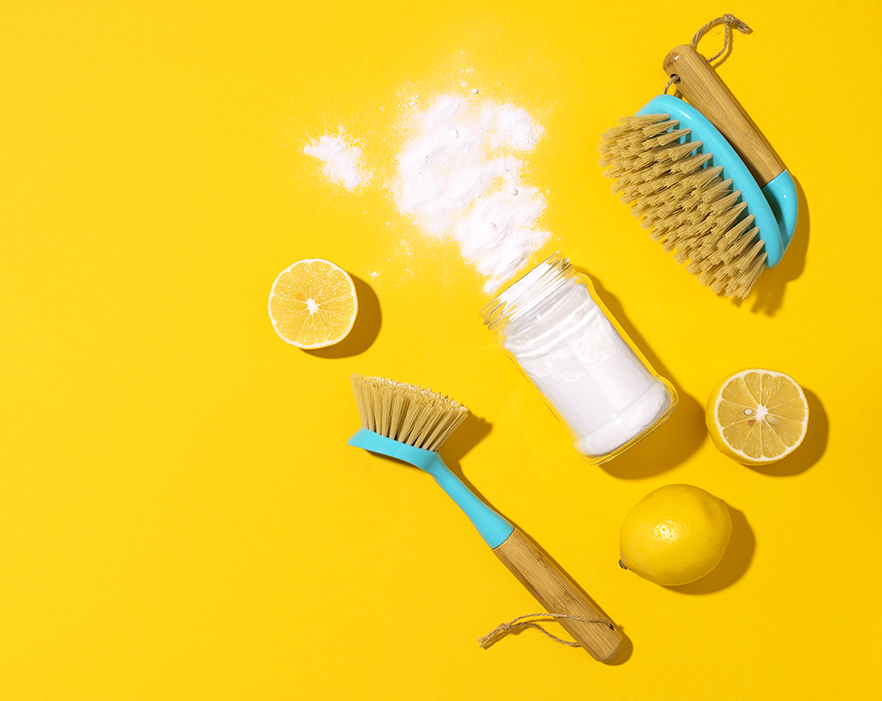 Thanks to the likes of Mrs. Hinch, giving your house a spring clean in preparation for selling or for house viewings has never been easier. Here we've compiled a few of our favourite cleaning hacks to make the cleaning process easy and cost effective; some of the tips may surprise you!

Shaving foam

That's right, you read correctly! Shaving foam is a great way to remove stains from your carpets. Having lighter coloured carpets means they are much more likely to show dirt and are much harder to clean, but simply rub in the shaving foam and let it sit for around 30 minutes. Once the area is dry, hoover it. A simple and cost-effective cleaning hack to prevent buying costly new carpets!

Vinegar

Forget just using vinegar on your chips; this cheap household staple has a few surprising uses to help clean your home. It can be used cheaply, safely and effectively to clean surfaces, windows, microwaves and can even be used to clean your toilet bowl, and dishwasher (replacing the need for expensive dishwasher rinse aid). Something else you may not know, is that distilled white wine vinegar, when used with your laundry, will reduce odour, soften clothes and act as a brightener for white clothes without having to use harsh chemical products– which has the added benefit of being better for the environment. We could go on but once you realise the value of vinegar, you may never need to buy cleaning products again!

Lemons

Another common household item, but what can you do with them other than slice and add to a well-earned gin and tonic at the end of a busy day? Why not try placing a bowl of water and lemon rinds in the microwave, turn it on for three minutes, leave for a further five minutes before opening the door –then wipe! You'll have a clean and fresh smelling microwave at minimal cost. If your wooden furniture needs a polish, combine 2 parts olive oil with 1 part lemon juice and you will have your own natural and fresh smelling furniture polish. And if the grouting in your bathroom or around your kitchen tiles are in need of attention, spray undiluted lemon juice on the offending area and leave for about ten minutes, then wipe off. It's guaranteed to leave your tiles and grouting sparkling and smelling fresh and clean.

Newspaper

We all aspire to having streak-free windows: a handy hint when cleaning interior or exterior windows with either vinegar, lemon or commercial cleaning products is to rub off the cleaning agent with newspaper. It's an excellent and very economical trick for creating streak-free windows.

Coke

It's another item many people regularly have in their homes, but did you realise that if you pour a can of coke, or the remains of the bottle which has gone too flat to drink, into your toilet bowl, leave for about an hour then flush away, it will leave the toilet looking clean and fresh.

Bicarbonate of soda

Yet another household staple which has several unexpected uses. If your bathroom or kitchen have signs of mildew or mould, make a paste from bicarbonate of soda by mixing with lukewarm water and then apply to taps, plugs or grouting. Use a brush to scrub it in then rinse; it will look as good as new. This mixture, when combined with white wine vinegar, can also be used as a very effective sink and drain un-blocker. Just pour hot water into the offending sink, add a cup of bicarbonate of soda and warm white wine vinegar, let it fizz then rinse with hot water. Bicarbonate of soda can also be used as a deoderiser to remove unwanted smells on furniture and mattresses, simply sprinkle on the offending item leave for a couple of hours then hoover up.

Rubber gloves

If you have pets who regularly shed hair, a good way of removing this from your upholstery is to simply rub the offending area with a rubber glove. Doing this will pick up the hairs which can then be easily disposed of!

Toothpaste

Did you know that toothpaste can be used to clean your stainless-steel sink? Simply squeeze some regular toothpaste onto a microfibre cloth, then buff the sink and rinse which should leave it deodorised and shining

It really is amazing that so many of the products we have in our homes can be used as a cheap and effective method of cleaning – making them just as effective as expensive big-name branded items. Using household products also have the added benefit of being better for the environment, helping to reduce waste and contain fewer harmful chemicals as they only rely on natural ingredients.